Last year on advertising in the Polish media companies spent a total of 8.331 billion zł, about 3 percent. more than a year earlier. The driving force behind market growth were hardware stores and household appliances, and discount stores. The biggest advertising medium is television all the time, but its market share is falling – according to a report media agency Starcom.
Last year Polish advertisers spending increased significantly less than in 2015, when the company up to a tenth of its increased investment in advertising.
– Last year for Polish entrepreneurs proved to be very anxious . Quick drafting of the new law, and in fact often the announcement of the new law resulted in the instability of the legal and political environment in the country – says Magda Kolenkiewicz, Director General Starcomu.
The worst period was the second and third quarter of last year, the advertising market has grown respectively by only 2.2 percent. and 2.1 percent.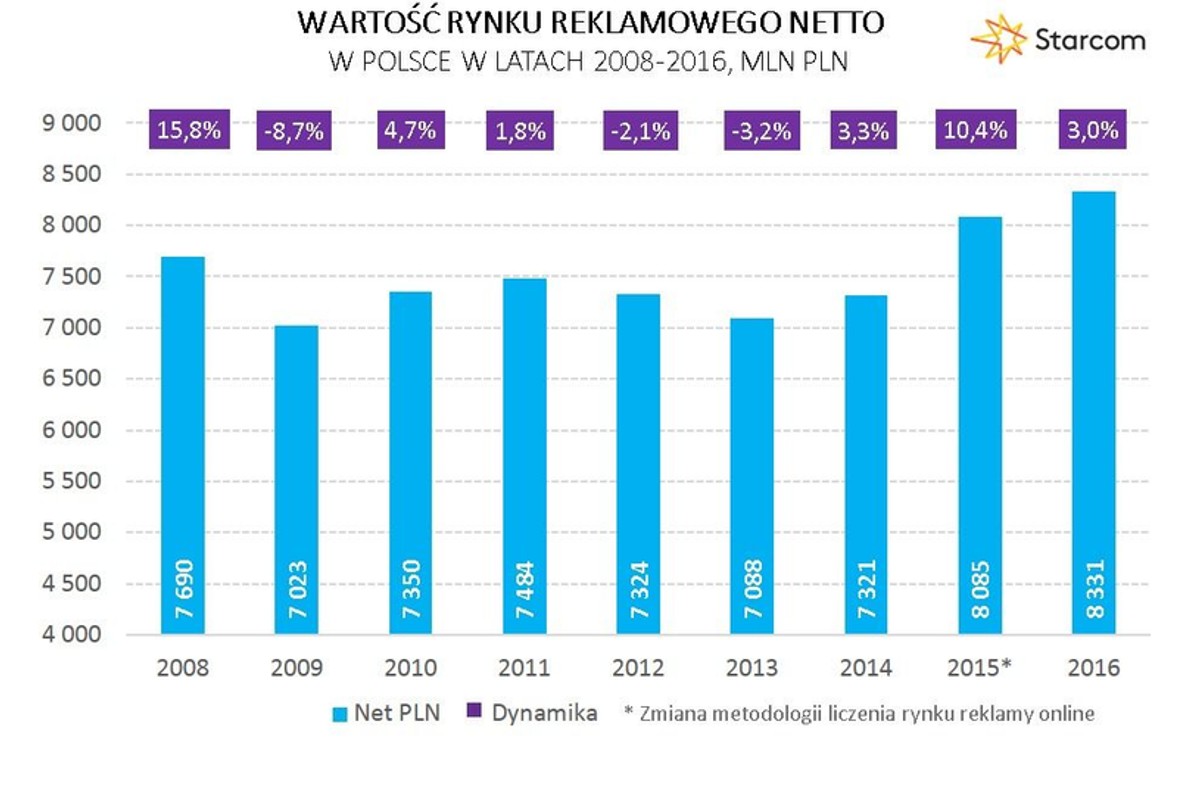 Photo: Starcom / press materials
In the fourth quarter of the value of the advertising market grew by as much as 3.9 percent . This may indicate that advertisers are accustomed to a high degree of uncertainty, and convinced that the announced changes to the law will not enter into force as quickly as planned. In addition, in November and December Christmas they started intensive campaigns.
Internet grows, less and less money for the press
The company in 2016 the most traditionally spent on advertising on television – went there zł 4.068 billion , an increase of 1.79 percent. more than a year earlier. However, the share of TV advertising market fell from 49.7 percent. to 48.8 per cent.
Spending on online advertising increased from 2,152 billion to 2,355 billion zł zł (the largest increase in millions of statement), and its share is now 28.3 percent. We are constantly shrinking advertising in the press. Expenditure in dailies dropped last year by 13.93 per cent., And in the warehouses of 9.37 percent.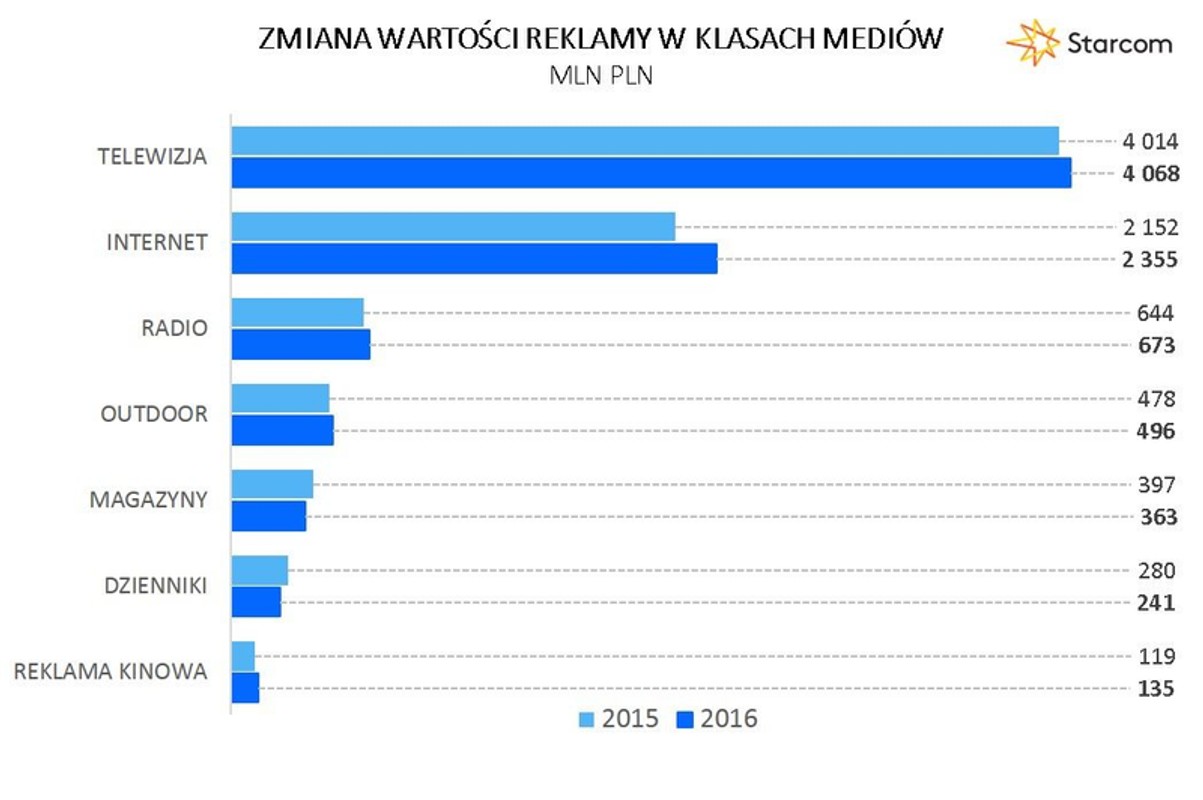 Trade advertising issued 1.31 billion zł
Throughout 2016 years the advertising market most affected trade and financial sector. The driving force behind growth was trade. In the period from January to December last year commercial sector allocated for advertising 1.311 billion zł, which is over one-fifth more than a year earlier.
The largest category of advertisers were supermarkets and hypermarkets, shops and warehouses. Comparing 2015 and 2016, the 10 largest advertisers retail sector increased its advertising spending by more than 30 percent. We invest heavily in the advertising network of electronics stores such as Media Expert, Euro RTV AGD, Media Markt Neonet and discount stores and hypermarkets, namely Lidl, Biedronka, Tesco and Kaufland.
Pharmaceutical products and medicines, which is the second in terms of cost of advertising industry in Poland, increased spending by 18.3 million zł (1.9 percent.). In 2016,. They amounted to 997.8 million zł.
The leader of declines was the financial industry , which reduced its investment in advertising about 147.6 million zł (17.6 percent.).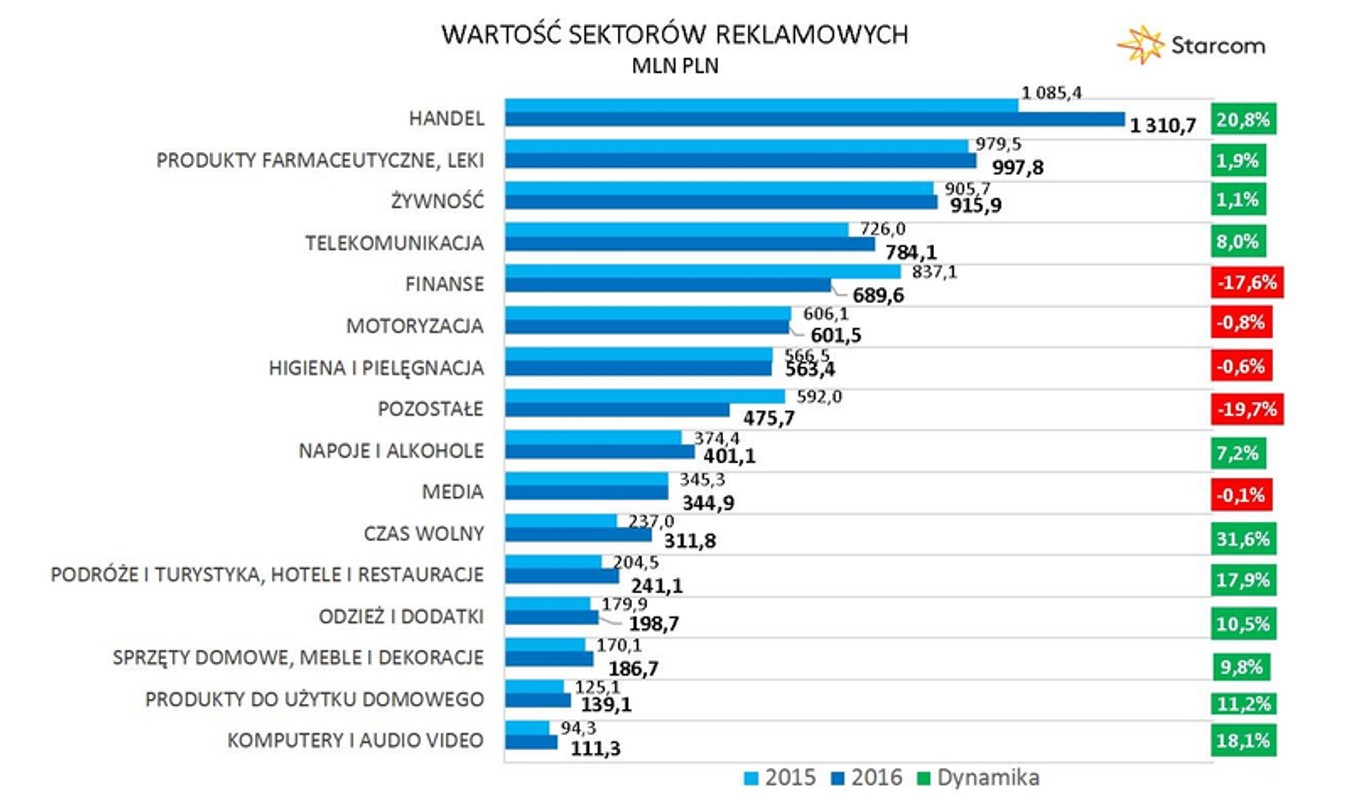 For the original article click
here
.